Innocent Bystander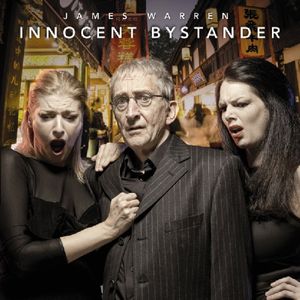 0:00/2:55

0:00/4:21

0:00/3:28

0:00/4:39

0:00/3:36

0:00/3:51

0:00/3:19

0:00/3:16

0:00/3:54
See Track Lyrics (as pdfs)
"This album harks back to an age which valued great songs and musicianship. Whilst Warren may not have found fame and fortune in the States for his craftsmanship like some of his peers this album reinforces his credentials and claim to greatness, nevertheless."
Seeking no refuge from passion, one of the finest pop purveyors is struck through the heart… again......
As usual, Warren's melodies remind us that he knows something about THE BEATLES, but this time James is channeling the silky end of Motown and Stax spectrum, "Everybody Needs Somebody" effectively updating a Solomon Burke classic and a few other pieces harking back to the era of pop innocence. There are cobweb-light lullaby "I Just Want You To Tell Me" and raga-spiced psychedelic ditty "Colours" to show the outer reaches of the veteran's talent are still at hand, although his eternally youthful voice is at its most gripping in the highly infectious "That's What You Do To Me" – when it's set against a heavier rumble and an organ-bolstered riff. 
Subtle twists and turns aplenty, Warren plays mind, and heart, games with the listener. He renders "Set Me Free" transparent and romantic… until it's turned inside out with the "one for the money, two for the show" line to trade a maudlin violin for a well-orchestrated carousel of elegant rock moves and the caress of slide guitar. Elsewhere, "That's How I'm Loving You" is cut from the same delicately fascinating fiber as "All The Love In The World" demonstrated, and this is, perhaps, the only thing which could be expected from James.
He may claim he's an innocent bystander, but he's complicit in the crime of love. 
Dmitry Epstein, Let It Rock
"Hopefully Simon Cowell has been mailed a copy, since the songs themselves are individually worthy and could well chart in the right hands. "
Warren's enduring passion for the infectious delights of pure melodic pop informed several excellent albums for The Korgis during the late seventies and early eighties ,along with a major singles success in the shape of the softly beguiling "Everybody's Got To Learn Sometimes." The former Stackridge stalwart's subsequent solo career has been a much more low-key affair but Warren's tuneful musical exploits always repay closer investigation nonetheless , and "Innocent Bystander" is thankfully no exception to the rule. "That's What You Do To Me" and "Have You Seen The Colours?" are the best of a catchy bunch. 
Kevin Bryan, Regional Newspapers (October 2017)
This album harks back to an age which valued great songs and musicianship.  Whilst Warren may not have found fame and fortune in the States for his craftsmanship like some of his peers this album reinforces his credentials and claim to greatness, nevertheless.  ****1/2 
Review by David Randall