We've just performed our Korgis set at The Sunshine Festival!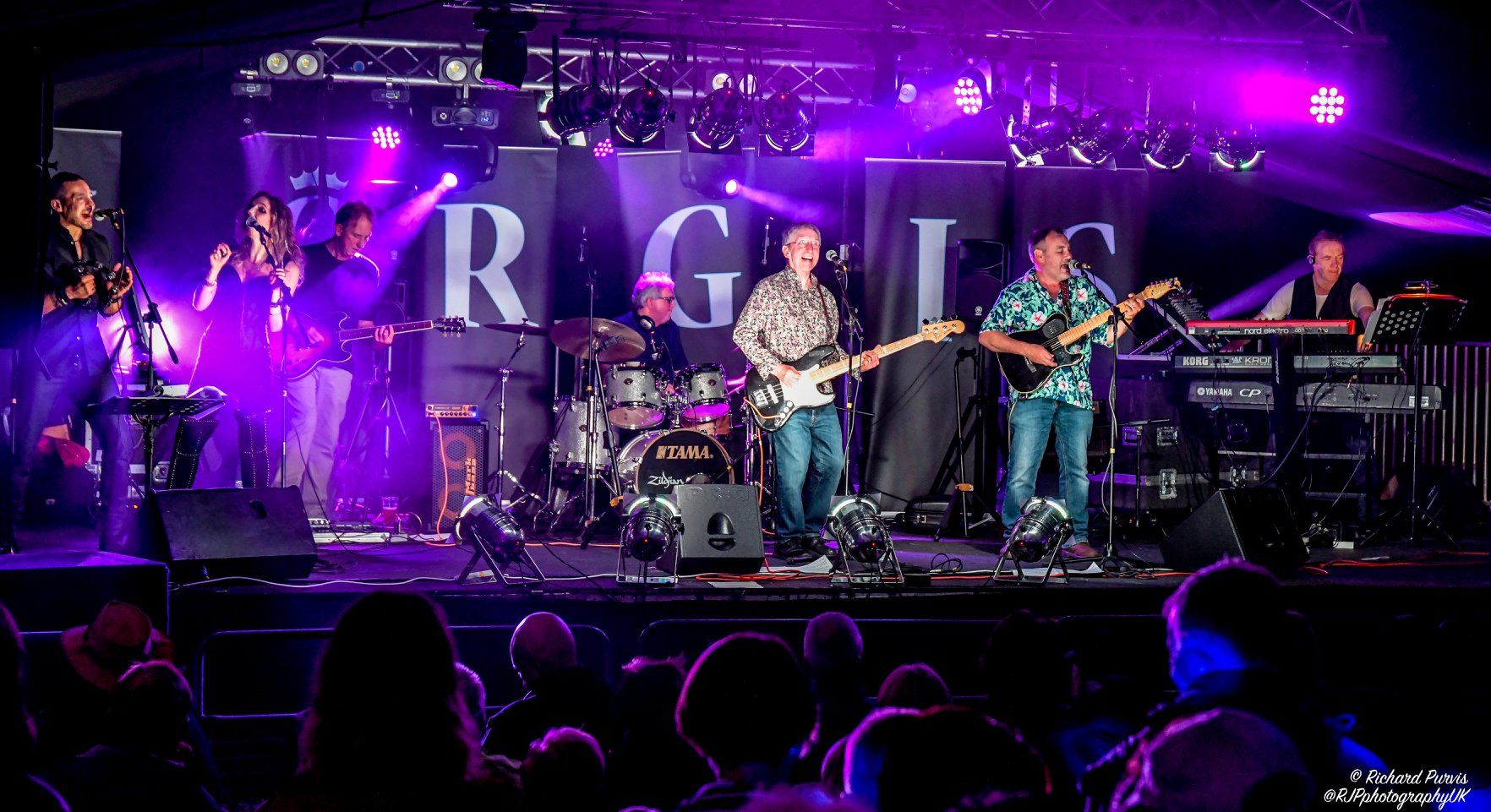 We got onto the site without any problem at around 16.00, (no queuing!) and the Artists Enclosure was right next to the main stage where we were due to play at 19.30. 
So we were having a pleasant time in the hospitality tent - tea, beer, vegetarian chilli - and then the heavens opened with a vengeance. Furious downpour and gale-force wind and you could see the main stage getting absolutely waterlogged. About 45 minutes later the storm subsided so we off-loaded all our gear from our 4 separate vehicles and carried it up the ramp to the covered holding area behind the stage.
Looking out at the field in front of us things didn't look promising.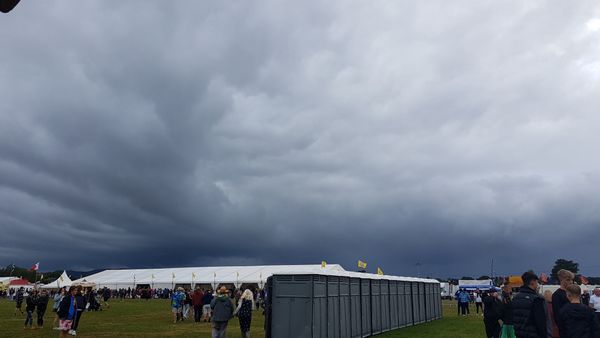 Sensibly the punters were all sheltering inside the various performance tents dotted around the site so if we'd gone ahead as planned at 19.30, we'd probably have been playing to about 5 people and 2 dogs!
Fortunately the organisers agreed with us that it would be crazy to risk performing on the open stage in case we were hit by another mini-hurricane, so we got the message "you can perform in the Variety Tent but you have to be on in 30 minutes." 
So.... we had to load all the gear back into our vehicles and shoot over to the other side of the site, off-load, set-up in double-quick time, have literally a 5 minute microphone-check then start the show.
The possibility for complete disaster was off the scale!
But amazingly, some might say miraculously, it couldn't have gone any better!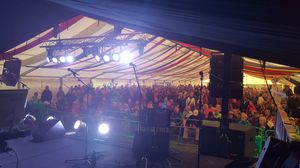 Our fantastic audience waited patiently for us to get everything set on Stage - helped by the brilliant Sunshine Festival Stage Crew, who were so on the ball - and the sound on stage was great - so Thank You guys - you rock! 
The band rose to the occasion, the 500 or-so audience loved it and there were absolutely no technical hitches. Unbelievable!
Al Steele as usual had a formidable amount of technical things to deal with - which again he achieved effortlessly - Nigel Hart was deputising for Glenn Tommey on keyboards and played a blinder, Paul Smith was his usual incomparable self on "la batterie" and us vocalists Ava, Jay, Emmy, John and myself couldn't stop smiling and giving it our all!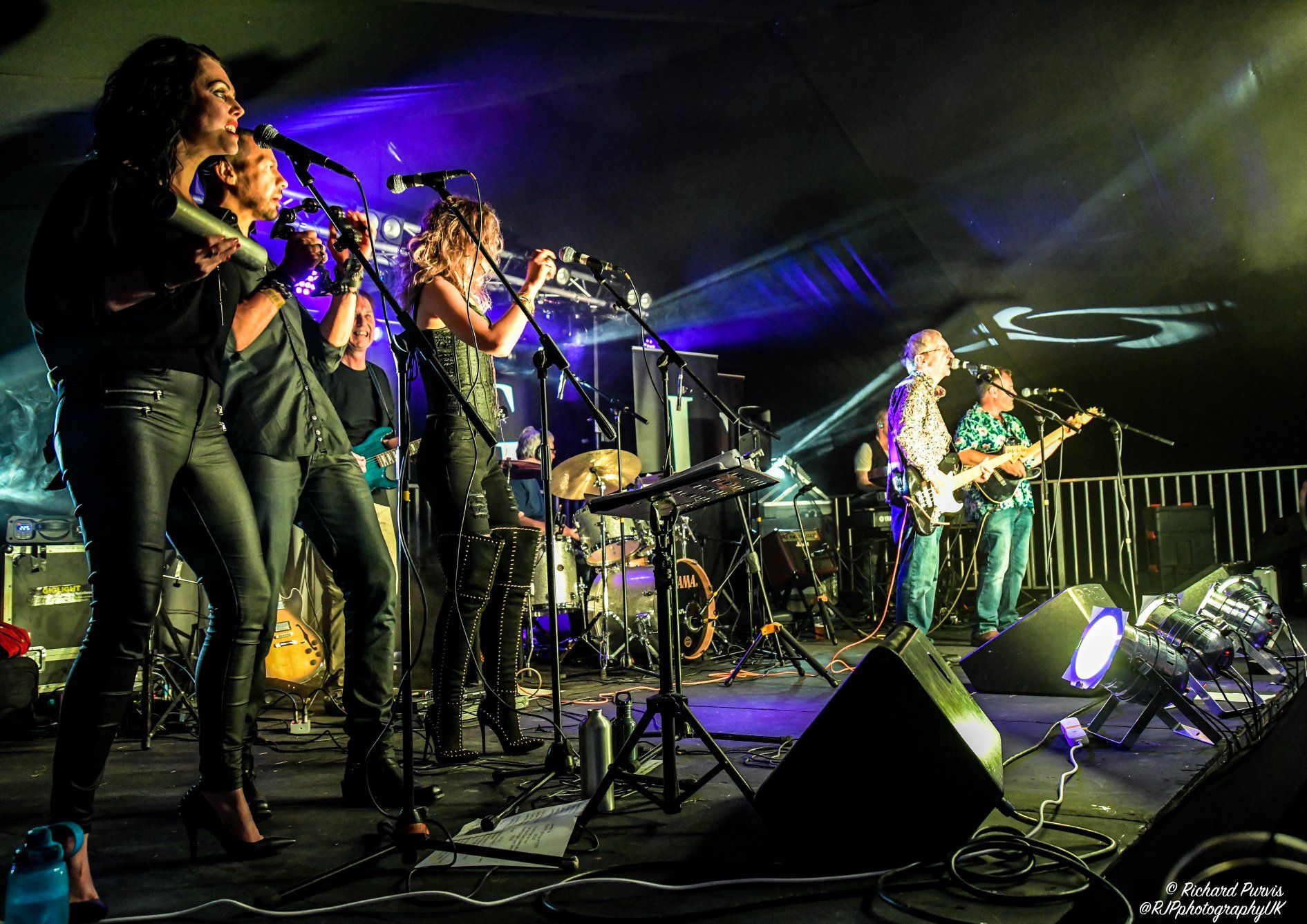 I love festivals!  
Let's hope we can do at least 30 in 2019!
Photos courtesy of Richard Purvis and Ceri Darknell